On the RRTR: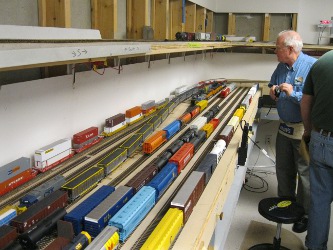 When I designed the railroad, I tried to keep in mind how I saw operations in my mind's eye. I gamed out how trains would move over the rails and how a crew would be able to switch a certain industry or reach a siding. Since I wanted a signaled railroad, this also drove where I would place signals so the crews could see them.
When it was time to start operations, I had a couple of choices of schemes, as I touched on before. I decided that I would use the old standby to control where my cars went: Car Cards and Waybills. This scheme is based upon generating a small card (2" by 4" is common) with the reporting marks of the car that is then folded to create a small pocket for a slip of paper called the waybill. Now, waybills are something the prototype railroads used, in fact, in earlier times they were sometimes nailed to the car. What we as modelers normally do with them in the least is to list the commodity (aka what is in the car) and where it is going. Now, you can put additional information on the slip if you want, and in my case, I put the train number, routing and town for this particular movement.
Trains are allowed to move based on the control of a dispatcher, who works the CTC (Centralized Traffic Control) system.