Modern Model Railroading in 1/87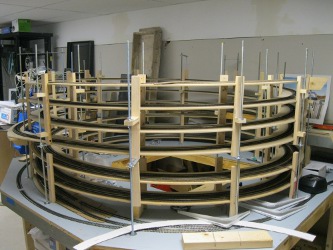 The Richmond Terminal Railroad V1 was a HO scale representation of the major rail lines in and around the city of Richmond, VA. The layout took up a good portion of a 33' by 24' basement and had multiple decks connected by both helix and nolix. The railroad uses JMRI to drive a CTC system with dispatcher control of the mainline turnouts. The picture above was the helix above a helix that connected the lower staging deck to the main deck for helix 1 (the bottom helix) and from the main deck to the upper deck (top helix that's suspended with all-thread.) All the V1 content can be found on the "V1" tab above.
This site will be used to document and share the construction and operation of the railroad. A blogspot hosted blog, richmond-terminal.blogspot.com, has been used until this point for this, but it is my intention that eventually the host blog will be used for short updates only and the majority of the content will reside here.
For more information, please use the tabs above for navigation. The Blog tab has the most information currently as the transition to this site is ongoing at this time. Additional content will be created and migrated as time permits. The blog is easily updated, so quick updates are posted as progress is made on the layout.
Current Status:
Only in memories, both electronic and biologic.
Recent Updates:
Late May 2016 Update: Version 1 reached the end of its life in April. Version 2 is currently in the planning stages, as its new home is under construction. Large pieces of the railroad have been saved and look to be reused on version 2. We hope to start the build for version 2 this winter.
October 2014 Update: Updates to the jmri page. Done for now with making tweaks to the JMRI panels until I get some sessions to wring them out.
September 2014 Update: More updates to the research page. Blogging has been going crazy! Upper staging yard 2.0 nearing completion. Got a idea for a kitbash/scratchbuild car.
Late July 2014 Update: Research page has been updated a bit. After attending a CTC clinic at the NMRA National Convention in Cleveland this month, another revamp is necessary to bring it closer to prototype. Oh, and I'm going to add safety interlocks..
June 2014 Update: The upper level of the railroad has been completed for the main line, terminating in a staging yard. An operating session has been held over the full railroad and additional changes are planned.
Additional tweaking has been done to the CTC panel, as the most recent operating session found a few problems. Additional signals have been placed and in some cases, replaced. The next operating session should be scheduled for July.
I have been working on updating the construction page. Some new information and photos have been added.